Project management Masterclass is the perfect mix between Technical Competences (how to use visual tools - scorecards, dashboards, frameworks, resources matrix, roadmaps, charts etc) and Behavioural Competences (leadership, decision making, problem solving, engagement and motivation, negotiation, conflict &crisis).

The delegates will brush up the project management driving skills using interactive methods and simulation games.
The participants will be involved in project management games whose proposed scenarios reproduce in real contexts the following challenges:
Dealing with dramatic decreases in project execution capabilities and productivity. 
Dealing with a limited staff situation, overwhelmed by increasing business demands, when the project quality begins to wane.
Going back on track when the project is behind the schedule and the budget is exceeded at the mid-point of the implementation.
Dealing with inadequate planned resources, the millestones are missing, and the delivery dates are not trusted by the client.
Dealing with unrealistic objectives and achieving the results are in jeopardy, when the existing internal project team is not able to handle the workload.
Managing the early stakeholder outreach and interested-party negotiation to reduce project cost and the timeframe for project completion.
Project management Master Class course was developed after 25 years experience in planning and implementing projects in companies, governmental and non-governmental organizations financed by Banks, Investment funds, European Union funds, World Bank funds, United Nation Development Program funds etc.
 
Project Management Master Class is focused on IPMA (International Project Management Association) competences:
1.    Behavioral Competences. 
2.    Technical Competences.
 
At the end of the training, the participants will:
Be able to manage efficiently and effectively the specific processes of a project;
Be able to use the Work Breakdown Structure when working in a project;
Be able to identify the necessary resources for implementing a project;
Be able to efficiently assign resources considering the tasks within the project;
Be able to manage the project team;
Be able to assign and delegate tasks to the team members, according to the role within the project as well as to the planned tasks;
Have the capacity to monitor and evaluate the project in the implementation phase, considering multiple criteria;
Be able to manage the project risks;
Develop their communication skills with project stakeholders.
Benefits
Training materials
You will receive 20 credits CPD Certificate of Attendance in project management
You will be part of an innovative, interactive and practical project management course
How will I be assessed?
You will complete a project management plan based on following structure:
Project idea, goal, objectives and non-objectives, stakeholders analyses, activities and resources pack, Gantt chart, risks plan, budget.
Entry requirements
Qualification/s or experience in your subject area.
Applicants are expected to have a good command of both written and spoken English
Who should attend?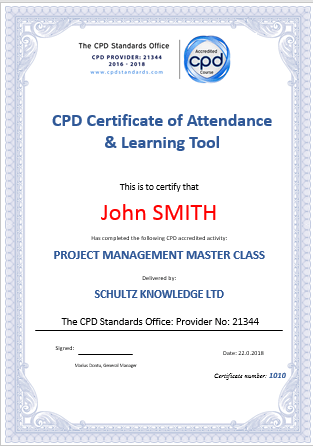 Project managers, Project coordinators, Team leaders, Product managers, Program managers
Project team members, Stakeholders, senior managers
Specialists in different professions who would like to develop project management skills
Project managers who would like to develop their skills to a master level and a certification to reflect this.
Certification
20 CPD points | More information about CPD. 

The training comprises a succession of practical and theoretical applications and elements on the following topics:

1. Introduction to Project management
Project management definition
Project management characteristic
Project management process
2. Define project idea
Cost/benefits analysis
Cause/effect analysis
SWOT analysis
Stakeholder's analysis
Define the goal and objectives
Define project success criteria
3. Project plan
Activities and resources pack
Work Breakdown Structure
Estimate budget
Results (inputs, outputs, outcomes)
Methodology
Milestones
Cash flow
Gantt chart
Responsibility matrix
Critical path tasks
Risk management plan
Communication plan
Control plan
4. Running the Project
Scorecards and dashboards
Negotiation
Timesheet
Decision making
Leading a team
Problem solving
Conflict management
Kick off meetings Minute
TO DO List
Project reports
5. Project Closure
Closing out the project
Lessons learned
6. Project manager role
Entry requirements:
Qualification/s or experience in your subject area.
Applicants are expected to have a good command of both written and spoken English.
Certification:
The graduates will receive 20 credits CPD Certificate of Attendance in project management.
Price includes: learning needs assessment analyses, trainers' expenses, training room, refreshments.